What Are The Symptoms Of Anxiety - How To Identify The Early Signs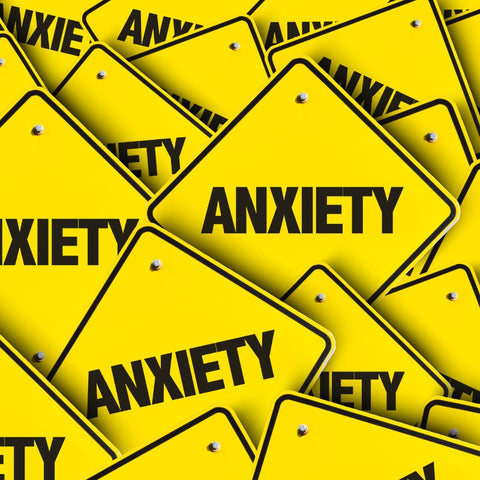 In the swirling storm of life, understanding your emotional landscape can be as important as recognising physical discomfort. Anxiety, one oft-misunderstood emotion, including anxiety disorders like separation anxiety disorder and agoraphobia, can creep up disguised as normal stress. These disorders often occur in children and adults alike, leaving its impact unaddressed. But, like a rise in body temperature signifies fever or another associated illness, our minds offer clues when anxiety levels elevate. This is especially true if there is a history of such illnesses in the family. Recognizing such symptoms in time can prevent the escalation of the problem. An event, causing considerable stress, could trigger this. In this blog post, we'll journey through the labyrinth of alarm signals your mind and body throw out to alert you about brewing anxiety. By answering the question what are the symptoms of anxiety and knowing what signs you should look for, you'll equip yourself to respond to these subtle distress calls before they amplify into a hurricane of unrest. Navigate through this awareness healing guide to help get you back into rest and digest mode amidst chaos and prioritise mental health in your pursuit of wellness.
Anxiety can manifest in a variety of ways, but some common symptoms include feelings of nervousness or unease, increased heart rate, sweating, shaking, muscle tension, fatigue, difficulty concentrating or sleeping, irritability, and avoidance behaviours. If you or your family member, especially children, are experiencing any of these symptoms of anxiety consistently, it's important to talk to your healthcare provider about receiving a proper diagnosis and treatment plan. The question of what are the symptoms of anxiety, if left unaddressed, can grow and affect everyday life.
See our range of herbal teas for anxiety here

See our sleep essentials to help you get a better night's sleep.


What physical symptoms may accompany anxiety?
Physical symptoms of anxiety that may accompany anxiety can include rapid heartbeat, sweating, trembling or shaking, shortness of breath, and a feeling of tightness in the chest.
Research shows that about 88% of individuals with anxiety experience physical symptoms like these, as the body's natural response to stress, fear, or an event that can trigger anxiety. These symptoms can be disruptive and distressing, highlighting the importance of recognising them as potential signs of anxiety or related illnesses.
Are there effective treatments for managing or reducing symptoms of anxiety?
Yes, there are several effective treatments for managing and reducing symptoms of anxiety. Cognitive-behavioural therapy (CBT) has shown great success in teaching individuals to identify and challenge negative thought patterns associated with anxiety. Medications like selective serotonin reuptake inhibitors (SSRIs) have also proved effective in treating anxiety disorders and associated problems. In fact, studies have shown that a combination of medication and therapy is often the most beneficial approach, leading to significant symptom reduction.
Are there different types of anxiety with different symptoms?
Yes, there are different types of anxiety with varying symptoms. Generalised Anxiety Disorder (GAD) is characterised by excessive worrying and physical symptoms like restlessness and fatigue. Social Anxiety Disorder involves extreme self-consciousness and fear of social situations. Panic Disorder manifests through sudden and intense panic attacks. Specific Phobias lead to irrational fears of specific objects or situations. In addition, Separation Anxiety Disorder, common in children but also affects adults, is marked by excessive fear when separated from home or family. 
How can one distinguish between normal anxious feelings and symptoms of an anxiety disorder?
Distinguishing between normal anxious feelings and symptoms of an anxiety disorder can be challenging, but a few key factors can help. Firstly, the intensity and duration of the symptoms are important indicators - if the anxiety persists for at least six months and significantly interferes with daily functioning or causes severe distress, it may be an anxiety disorder. Additionally, recurrent physical symptoms like rapid heart rate, excessive sweating, and difficulty concentrating could also suggest an anxiety disorder. Therefore, it is essential to always be alert to the signs and symptoms that point to a larger problem, such as an anxiety disorder, before it becomes a significant event in your life. Often, individuals experiencing anxiety might feel restless, irritable, and even have muscle aches due to constant tension, adding another layer of complexity to their situation.
Can anxiety cause other mental health problems?
Yes, anxiety can lead to other mental health problems.  Prolonged anxiety can contribute to chronic stress, which may further impact overall mental well-being and exacerbate existing symptoms of anxiety such as muscle aches and trouble sleeping or concentrating. It is essential to recognise the interconnectedness of mental health issues and address anxiety promptly to prevent the onset or worsening of other mental health problems.
Recognising Emotional Symptoms of Anxiety
Anxiety can manifest in various ways including the mind racing or heart pounding, and recognising the emotional and physical symptoms is essential for understanding and addressing this mental health condition. These symptoms can be overwhelming and disrupt daily life, making it crucial to identify them early on. By recognising and acknowledging these emotional signs of anxiety, individuals can seek appropriate support and treatment.
One common emotional symptom of anxiety is persistent feelings of dread and fear. Those experiencing anxiety may constantly worry about potential outcomes or feel a sense of impending doom without any rational reason. This constant state of fear can be mentally exhausting and affect their ability to concentrate on daily tasks or enjoy life fully. It could also lead to physical symptoms such as heart pounding and lightheadedness.
For instance, imagine a student who has an upcoming exam but experiences intense feelings of dread and fear, even when adequately prepared. They may have racing thoughts about failing, envision worst-case scenarios, and struggle to focus on studying due to trouble concentrating. The emotional toll caused by these persistent fears can significantly impact their overall well-being.
Another emotional symptom often associated with anxiety is being easily startled or feeling nervous. Individuals with anxiety may find themselves on edge, constantly perceiving even minor stimuli as potential threats or danger. This heightened state of alertness can lead to frequent and exaggerated startle responses to unexpected noises or movements.
A person with anxiety may experience sweaty palms, increased heart rate, and a racing mind after being startled by something as innocent as a door slamming shut or a car honking outside. Such incidents can cause more physical discomforts like making them feel more restless or irritable.
This constant state of nervousness, in conjunction with symptoms such as trouble sleeping, can leave individuals feeling drained and perpetuate a cycle of anxiety. It's important to note that everyone experiences occasional moments of being startled or feeling nervous; however, when these feelings become excessive and interfere with daily functioning, it may indicate underlying anxiety.
Recognising these emotional symptoms acts as the first step towards addressing and managing anxiety effectively. By acknowledging the presence of persistent fear or heightened nervousness, individuals can reach out for professional help or implement self-care strategies to alleviate their symptoms.
Now that we have explored the emotional symptoms of anxiety, let's delve deeper into the physical manifestations that often accompany this condition. Understanding these signs, which include muscle aches and lightheadedness, can further enhance our ability to recognise and support those experiencing anxiety.
Recognising and acknowledging the emotional symptoms of anxiety, such as persistent feelings of dread and fear or being easily startled or nervous, is crucial for seeking appropriate support and treatment. These symptoms can significantly impact an individual's daily life and overall well-being. Understanding these emotional signs acts as the first step towards effectively managing anxiety.
Being Easily Startled or Feeling Nervous
As we discussed earlier, being easily startled or feeling nervous is a common emotional symptom experienced by individuals with anxiety. But it's important to also recognise how these emotional symptoms can lead to physical discomfort, including muscle aches and trouble sleeping, significantly impacting the quality of life. These manifestations may appear as seemingly excessive reactions to harmless stimuli, primarily due to a heightened sense of alertness and an overactive fight-or-flight response. Such behaviours are characteristic of certain mental health conditions like anxiety and phobia, causing one to sense terror even in everyday situations.
Think of it like a car alarm that goes off at the slightest touch, even in response to a gentle breeze or passing shadow. In such cases, the car's alarm system becomes oversensitive, resulting in unnecessary noise and disruption. Similarly, those with anxiety can become hyper alert to their surroundings, making them more prone to feeling on edge or excessively startled. This heightened sense of alertness warrants a visit to a doctor for consultation and professional advice.
These feelings of nervousness can manifest throughout daily life, impacting various aspects. For example, individuals may struggle with social interactions due to a constant fear of judgement or criticism. Simple tasks like speaking up in meetings or attending social gatherings can trigger intense nervousness, leading some to avoid situations altogether, which are behaviours that might require a visit to a psychiatrist who specialises in such mental health conditions.
It's important to understand that being easily startled or feeling nervous in certain situations does not automatically signify an anxiety disorder. However, if these symptoms persist and significantly interfere with daily functioning, it may be indicative of an underlying anxiety condition such as separation anxiety that could benefit from professional attention.
Remember, recognising these signs is crucial for providing compassion and support to those experiencing anxiety. By acknowledging their emotions and encouraging open conversations about mental health, we can work towards reducing stigma and creating environments conducive to well-being.
Persistent Feelings of Dread and Fear
One of the key indicators of anxiety is the experience of persistent feelings of dread and fear. If you find yourself in a state of constant worry, where a sense of impending doom looms over your daily life, it may be a sign that you are grappling with anxiety. These feelings can often be irrational, disproportionate to the situation at hand. For example, you might feel intense fear over everyday occurrences like going to work or socialising with others. In such cases, it is highly suggested to consult with a doctor for appropriate advice and treatment.
It's important to note that occasional bouts of worry or fear are normal and part of the human experience. However, when these feelings become chronic and disrupt your ability to function and enjoy life, it may be indicative of an anxiety disorder. Such persistent feelings can manifest as "what if" scenarios playing on repeat in your mind, making it difficult to focus on other tasks or find pleasure in activities you used to enjoy. Visiting a psychiatrist could provide more light on this issue.
Anxiety-induced dread and fear can take a toll on every aspect of your life – relationships, work performance, physical health, and overall well-being. It can create a cycle where the fear itself becomes a source of anxiety, further intensifying your emotional distress. Recognising these persistent feelings and behaviours is crucial for seeking appropriate support and treatment.
Imagine waking up every day with an overwhelming sense of dread, as if something terrible is about to happen. That feeling follows you throughout the day, never fully subsiding. It's exhausting mentally and emotionally. It's these moments of terror where asking for advice from professionals and speaking to a doctor can be extremely beneficial.
Understanding how persistent feelings of dread and fear present themselves is essential when it comes to recognising and addressing anxiety. Another significant aspect to consider is the physical indicators that often accompany this mental health condition.
Physical Indicators of Anxiety
Anxiety doesn't solely affect our thoughts and emotions; it can also manifest in physical ways. As part of dealing with anxiety or other mental health conditions, be sure to consult with a psychiatrist or a trusted healthcare provider for advice and medication if required.The body has a remarkable way of responding to stressors, including anxiety triggers. Individuals experiencing anxiety may notice various physical indicators that can serve as warning signs. These warning signs, which could be shared with friends or family for mutual understanding, can include:
Rapid heartbeat and palpitations: When feeling anxious, your heart rate might skyrocket, causing you to feel as if your heart is racing or skipping beats. This can be distressing, and sometimes, individuals may even mistake it for a heart attack. In such situations, consulting with doctors or medical services may be necessary to obtain suitable medicines for calming the heart rate.

Shortness of breath: Anxiety can lead to shallow breathing and a feeling of not getting enough air. It can feel as though you are unable to take in deep, satisfying breaths, leading to increased feelings of panic.

Muscle tension and body aches: Anxiety can cause muscle tension throughout the body, leading to tightness, stiffness, and even headaches. You may find yourself clenching your jaw or experiencing discomfort in your neck, shoulders, or back.

Digestive issues: The gut, often referred to as the "second brain," strongly interacts with our emotional state. Anxiety may result in digestive problems such as stomachaches, nausea, diarrhoea, or constipation. The help of a psychologist can be crucial in understanding these issues.

Fatigue and insomnia: Constant worry and fear can be mentally exhausting, leaving you constantly tired and drained. On the other hand, some individuals may experience difficulty falling asleep or staying asleep due to racing thoughts and heightened arousal. These individuals might benefit from cognitive behavioural therapy (CBT), which could help them manage their anxiety and improve sleep quality.
Recognising these physical indicators can help differentiate between temporary stress responses and underlying anxiety conditions. By taking note of these bodily sensations and understanding their connection to anxiety, you can seek appropriate support from healthcare professionals, take the necessary medicines, or implement self-care strategies to manage your symptoms effectively.
Experiencing Insomnia or Restlessness
One of the most common symptoms of anxiety is experiencing difficulty sleeping, which can manifest as insomnia or restlessness. When anxiety takes hold, it can be challenging to quiet the mind and find calmness before bedtime. Thoughts may race, worries multiply, and the body feels tense. As a result, falling asleep becomes elusive, often leading to prolonged periods of lying awake in bed.
For those who have experienced insomnia due to anxiety, they understand the toll it takes on their overall well-being. The lack of quality sleep affects cognitive functioning and mood, exacerbating feelings of anxiousness during wakeful hours. It becomes a vicious cycle where anxiety hinders sleep, and lack of sleep fuels anxiety.
Imagine Sarah, a dedicated professional who consistently finds herself tossing and turning at night, unable to silence her racing thoughts about work deadlines and upcoming presentations. The nights blend into each other as exhaustion sets in during the day. Sarah's once-productive work hours start to suffer, leading to increased stress and heightened anxiety levels. Recognising this pattern, Sarah decides to seek help from friends, services, psychologists, and doctors, who recommend medicines and cognitive behavioural therapy, proving to be a crucial step in identifying and managing her anxiety symptoms.
If you find yourself struggling with insomnia or restlessness due to anxiety, seeking support from a healthcare professional or therapist may prove beneficial. They can help you explore relaxation techniques, such as mindfulness exercises or guided meditation that promote deeper relaxation before bedtime. Additionally, they might provide strategies for managing anxiety during the day that can contribute to better sleep at night.
Now that we've discussed the connection between anxiety and insomnia/restlessness let's delve into another symptom often associated with anxiety – heart palpitations and excessive sweating.
Heart Palpitations and Excessive Sweating
Picture yourself standing at the edge of a cliff, gazing at the vast expanse below—a thrilling mix of excitement and fear tingles through your body. Your heart pounds rapidly, beads of sweat form on your forehead. This heightened physiological response can also occur in moments of anxiety.
Heart palpitations, characterised by irregular or increased heartbeats, are a common symptom of anxiety. It's as though the heart goes into overdrive, thumping loudly and rapidly as adrenaline courses through your veins. This sensation can be incredibly distressing, leading to further anxiety and even panic.
Accompanying heart palpitations, excessive sweating is another physical manifestation of anxiety. The body's fight-or-flight response activates, triggering a surge of adrenaline that signals to the sweat glands to release perspiration. It's the body's way of trying to cool down and prepare for action in response to perceived danger or stress.
Think about a university student who becomes increasingly anxious before every exam. As she sits down at her desk to take the test, her heart races, feeling like it might burst out of her chest. Beads of sweat start to trickle down her face, leaving her feeling self-conscious and uncomfortable. The combination of racing heartbeat and excessive sweating creates a cycle of anxiety that impacts her ability to focus on the task at hand.
If you experience heart palpitations and excessive sweating due to anxiety, it may be helpful to learn relaxation techniques that can help calm the body's responses during stressful moments. Deep breathing exercises, grounding techniques, or engaging in activities that promote relaxation (such as yoga or meditation) can be effective in reducing these symptoms. The 4-7-8 breathing technique can be particularly helpful when these symptoms come on.
Having explored the symptoms of insomnia/restlessness and heart palpitations/excessive sweating related to anxiety let's now turn our attention to chronic worry and over-analysing.
Chronically Worrying and Over-analysing
One of the common symptoms of anxiety is chronic worrying and over-analysing. It's that incessant rumination where your mind is constantly spinning with what-ifs, worst-case scenarios, and excessive concerns about the future. You find yourself trapped in a cycle of overthinking, unable to let go of thoughts and constantly seeking reassurance or trying to predict outcomes.
For instance, imagine you have an upcoming presentation at work. Instead of just preparing adequately, you find yourself going over every detail repeatedly, doubting your skills, anticipating failure, and imagining all the negative things that could happen. Your mind becomes consumed by worry, leading to feelings of restlessness, irritability, and a sense of dread.
Dealing with chronic worrying and over-analysing can feel overwhelming, but it's important to recognise these patterns and seek support. Professional help from therapists or counsellors can provide valuable techniques to manage these thought processes effectively.
By addressing this symptom head-on, you can learn strategies like mindfulness and cognitive-behavioural therapy (CBT) to reframe negative thinking patterns and develop healthier ways of dealing with uncertainty and stress.
For example, practicing mindfulness involves focusing on the present moment without judgement, allowing you to detach from anxious thoughts and regain a sense of control. CBT techniques help challenge irrational beliefs and replace them with more realistic and positive perspectives.
Remember that it takes time and effort to overcome chronic worrying and over-analysing. With practice and patience, you can break free from the cycle of anxiety-induced thoughts and find relief.
Identifying Social Anxiety Triggers
Social anxiety disorder can manifest in various situations where individuals experience intense fear or discomfort during social interactions. Identifying triggers specific to social anxiety is crucial for understanding its impact on your daily life. By recognising these triggers, you can take proactive steps to manage them and seek appropriate support.
Social anxiety triggers can vary from person to person, but common ones include:
Public Speaking: Many individuals with social anxiety fear speaking in public or expressing their opinions in front of others. The mere thought of being the centre of attention may induce overwhelming anxiety symptoms.

Meeting New People: Initiating conversations, introducing oneself, or meeting new people can be challenging for those with social anxiety. The fear of judgement, rejection, or awkward interactions can significantly contribute to anxiety levels.

Performances or Performative Situations: Whether it's singing, dancing, acting, or any other form of performance, individuals with social anxiety often experience heightened distress in situations where they are expected to showcase their talents.

Authority Figures: Interactions with authority figures such as supervisors, teachers, or bosses can trigger social anxiety. The fear of criticism, evaluation, or disappointing these figures can lead to considerable discomfort.

Social Gatherings: Parties, networking events, or even casual get-togethers may evoke anxiety for individuals with social anxiety disorder. They might feel self-conscious about their appearance, behaviour, or fitting into a social group.
By reflecting on your own experiences and noting situations that consistently provoke feelings of unease or dread, you can identify your personal social anxiety triggers. This awareness serves as a valuable starting point for seeking help and implementing strategies to manage and navigate these challenging situations more effectively.
Understanding Panic Disorder Symptoms
Panic disorder is a type of anxiety disorder characterised by recurring panic attacks. These attacks can be incredibly distressing and often come on suddenly, without any apparent trigger. It's important to recognise the symptoms of panic disorder to distinguish it from normal anxiety or stress responses. Let's explore some common signs and symptoms associated with panic disorder.
One key symptom of panic disorder is the presence of recurring panic attacks. During a panic attack, individuals experience intense fear or discomfort that reaches its peak within minutes. Physical sensations such as rapid heartbeat, chest pain, shortness of breath, dizziness, and sweating are commonly reported. These physical symptoms often lead to a sense of impending doom or a fear of losing control, further exacerbating anxiety during an attack.
Another symptom of panic disorder is the persistent worry about having future panic attacks. Individuals with this disorder often develop a fear of having another panic attack in public or unfamiliar places where they may have trouble getting help or feel embarrassed by their symptoms. This fear can lead to avoidance behaviours and restrictions on one's lifestyle, contributing to feelings of isolation and limiting personal growth.
Furthermore, people with panic disorder often exhibit changes in behaviour related to their anxiety. They might start avoiding situations or places associated with previous panic attacks, such as crowded spaces or heights. This avoidance behaviour can severely impact daily functioning and cause significant distress in social settings or while travelling.
Now that we have explored the symptoms of panic disorder, let's discuss the importance of knowing when to seek professional help.
Knowing When to Seek Professional Help
Recognising the symptoms of panic disorder is a vital first step, but knowing when to seek professional help is equally important. While occasional anxiety or stress is normal, persistent and disruptive symptoms should not be ignored. Here are some signs that indicate it may be time to reach out to a mental health professional for assistance.
If the symptoms of panic attacks significantly interfere with your daily life, whether it's your work, relationships, or overall well-being, seeking professional help is essential. Mental health professionals can provide appropriate guidance, support, and treatment options tailored to your specific needs.

When the frequency or severity of panic attacks increases over time, it's crucial to seek professional evaluation. Mental health professionals can accurately diagnose panic disorder and develop an individualised treatment plan that may include therapy, medication, or a combination of both.

If you find yourself engaging in avoidance behaviours due to fear of triggering panic attacks, seeking professional help can assist in addressing and managing these fears. Therapy can help you gradually confront your fears in a safe environment and develop healthier coping mechanisms.
It's important not to suffer in silence or feel ashamed about seeking help for mental health concerns. Remember that seeking professional assistance is a sign of strength, as it shows your commitment to your own well-being and empowers you to take control of your life.
Understanding the symptoms of anxiety and recognising when to seek professional help are vital steps towards managing and reclaiming a sense of calmness in our lives.
Related Products