The Best Yoga Retreats in Australia in 2023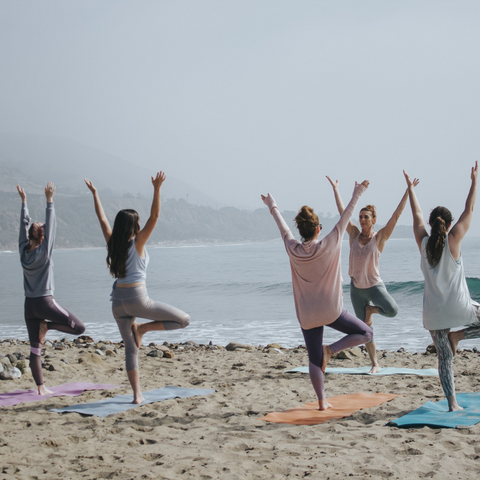 Ready to embrace tranquillity and realign your energies in the most stunning landscapes Australia has to offer? From wellness havens nestled amidst the wilderness to beachfront sanctuaries under cascading sunsets, we've curated an impeccable list of the top 10 yoga retreats set to redefine your mind-body connection in 2023. Delve deeper into a world of holistic experiences that beautifully blend yoga, meditation, health-boosting cuisine, and detox therapies. Buckle yourself up for an extraordinary journey of self-discovery that will empower, delight, and recharge you from the inside out. Are you ready? Let's get started!
Our website features an article that lists the top 10 yoga retreat destinations in Australia for 2023, based on factors such as location, uniqueness, yoga styles, and value for money. Some of these top destinations include Billabong Retreat in New South Wales, Ultimate Healing Yoga Retreat in Byron Bay Hinterland, and Yoga & Hiking Retreat in Hepburn Springs. The article provides a detailed review of each destination to help you choose the one that best suits your needs.


The Top 10 Yoga Retreats in Australia for 2023
Australia offers a plethora of breathtaking yoga retreats, each with its unique charm and offerings. So, if you are seeking a transformative experience in 2023, here is a handpicked selection of the top 10 yoga retreats in Australia:
Byron Yoga Retreat Centre (Byron Bay, New South Wales): Nestled amidst the serene coastal landscapes of Byron Bay, this retreat centre provides an immersive yoga experience. With a wide range of programs catering to all skill levels, workshops on mindfulness, meditation, and spirituality, participants can find solace in the embrace of nature.

Billabong Retreat (Maraylya, New South Wales): Surrounded by tranquil bushland, this eco-friendly retreat offers a perfect blend of relaxation and self-discovery. With daily yoga classes and guided meditations, guests can immerse themselves in holistic wellness practices while enjoying nutritious vegetarian meals.

Gaia Retreat & Spa (Brooklet, New South Wales): Known for its luxurious ambiance and award-winning spa facilities, Gaia Retreat & Spa creates an oasis where guests can rejuvenate their mind, body, and spirit through yoga sessions, indulgent treatments, and organic cuisine.

Kangaroo Valley Retreat (Kangaroo Valley, New South Wales): Tucked away in the pristine Kangaroo Valley, this retreat centre provides a peaceful sanctuary for yoga enthusiasts. Offering a variety of classes ranging from restorative to vinyasa flow, participants can unwind amidst the beautiful Australian countryside.

Gwinganna Lifestyle Retreat (Tallebudgera Valley, Queensland): Situated within the Gold Coast hinterland rainforest, Gwinganna Lifestyle Retreat aims to reconnect guests with nature through its wellness programmes. Alongside daily yoga sessions and spa treatments, visitors can enjoy organic cuisine and explore the surrounding wildlife.

Sukhavati Ayurvedic Retreat and Spa (Bali, Indonesia): Located just a short flight away in Bali, Indonesia, Sukhavati Ayurvedic Retreat and Spa presents an authentic Ayurvedic experience. Offering tailored wellness programmes combining yoga, meditation, and Ayurvedic treatments, guests can find harmony and balance in this serene retreat.

Samadhi Retreat (Daylesford, Victoria): Set in the picturesque Daylesford region of Victoria, Samadhi Retreat invites guests to unwind amidst stunning natural surroundings. With daily yoga and meditation classes, as well as healing spa therapies, participants can embark on a journey of self-discovery and rejuvenation.

The Yoga Vine (Margaret River, Western Australia): Surrounded by vineyards and breathtaking landscapes, The Yoga Vine offers an idyllic setting for those seeking relaxation and mindfulness. With a range of yoga styles on offer and intimate class sizes, participants can connect deeply with their practice and find inner peace.

Tasmanian Walking Company: Bay of Fires Lodge Walk (Bay of Fires, Tasmania): For those longing to combine nature exploration with yoga practice, the Bay of Fires Lodge Walk is a perfect choice. This guided trekking experience takes you through pristine coastal landscapes while offering yoga sessions overlooking the breathtaking Bay of Fires.

Hepburn Springs Escape (Hepburn Springs, Victoria): Nestled in the heart of Victoria's spa country, Hepburn Springs Escape offers luxurious accommodations combined with wellness activities like yoga and meditation. Guests can indulge in rejuvenating spa treatments or relax in natural mineral springs to complete their retreat experience.
Now that we have explored some of the top yoga retreats in Australia for 2023 let's focus on one specific category that exudes ultimate comfort and luxury - luxury accommodation retreats.
Luxury Accommodation Retreats
For those seeking a truly indulgent and pampering retreat experience, luxury accommodation retreats provide the perfect setting. These serene havens offer premium amenities, stunning surroundings, and impeccable service to ensure guests feel like royalty throughout their stay.
Imagine waking up in a secluded villa nestled amidst lush tropical gardens, with your own private infinity pool overlooking breathtaking landscapes. Luxury accommodation retreats spare no expense in providing guests with an unforgettable experience that combines opulence with tranquillity.
These retreats often offer spacious and elegantly designed rooms or villas, equipped with modern conveniences and luxurious furnishings. Many include features such as private terraces, outdoor spas, and the latest in-room technology to enhance comfort and relaxation.
Beyond the lavish accommodations, these retreats curate an exclusive range of wellness experiences tailored to rejuvenate both the body and mind. Guests can indulge in daily yoga sessions led by experienced instructors who guide them through invigorating asanas and meditation practices.
In addition to yoga, luxury accommodation retreats typically offer a wide range of spa treatments to pamper guests from head to toe. From soothing massages to revitalising facials, these first-class facilities are dedicated to enhancing overall well-being.
To complete the luxury experience, gourmet cuisine is a focal point. The retreats often showcase world-class chefs who create delectable menus emphasising fresh, locally sourced ingredients. Guests can savour sumptuous meals while enjoying panoramic views or dining in elegant settings.
Whether you're seeking a romantic getaway, personal rejuvenation, or simply an escape from the demands of daily life, luxury accommodation retreats provide a sanctuary where you can immerse yourself in unparalleled comfort and wellness.
Spiritual Retreats Emphasising Meditation
For those seeking a deeper connection with their inner selves and the spiritual realm, spiritual retreats emphasising meditation offer an ideal sanctuary. These retreats provide a serene and transformative space for individuals to explore mindfulness and dive into the depths of their consciousness.
These retreats offer a holistic approach to meditation, incorporating various techniques such as breathwork, guided visualisations, and sound healing. Participants have the opportunity to engage in daily meditation sessions amidst lush gardens or by the crystal-clear waters of nearby secluded beaches.
Imagine waking up to the gentle sounds of nature, feeling the warmth of the morning sun on your skin as you embark on a guided meditation session under a serene canopy of trees. The tranquil surroundings and expert guidance create an atmosphere conducive to deep introspection and spiritual growth.
Some may question the effectiveness of spiritual retreats emphasising meditation, wondering if it's just about sitting quietly for extended periods. However, these retreats go beyond basic meditation techniques and provide participants with valuable tools to cultivate mindfulness in their everyday lives. The presence of experienced teachers who can guide attendees through different styles of meditation ensures that participants deepen their practice and gain new insights during their time at these retreats.
The presence of experienced teachers who can guide attendees through different styles of meditation ensures that participants deepen their practice and gain new insights during their time at these retreats.
Retreats Set in Breathtaking Natural Locations
Australia is renowned for its awe-inspiring landscapes and diverse natural beauty. Retreats set amidst these breathtaking surroundings offer a unique opportunity to connect with nature while indulging in rejuvenating yoga and wellness practices.
Imagine practicing yoga on an open-air platform that overlooks sweeping valleys and towering eucalyptus forests. The crisp mountain air heightens your senses as you flow through energising asanas, feeling a deep sense of grounding amidst this majestic wilderness.
These retreats provide not only a physical escape but also a profound connection with the natural world around us. The combination of yoga or meditation practices with the splendour of Australia's landscapes creates an unforgettable experience that nurtures both body and soul.
Beach-front Retreats
Australia is renowned for its stunning coastline and pristine beaches, making it an ideal destination for beach lovers. If you're seeking a yoga retreat that combines the healing power of yoga with the beauty of the ocean, then a beach-front retreat is the perfect choice. Picture waking up to the sound of waves crashing on the shore, practising your asanas with a gentle sea breeze, and immersing yourself in the tranquil ambiance of nature.
One such beach-front retreat is the Byron Bay Beachfront Yoga Retreat located in Byron Bay, New South Wales. Surrounded by breathtaking beaches and lush coastal landscapes, this retreat offers a unique opportunity to deepen your practice while rejuvenating your mind, body, and soul. Imagine meditating on the sandy shores at sunrise or practising yoga in open-air pavilions overlooking the ocean – it's a truly immersive experience.
Beach-front retreats not only provide access to stunning natural surroundings but also offer various activities like paddleboarding or surfing lessons. After a fulfilling day of mindfulness and movement, you can unwind by taking a leisurely stroll along the beach or simply relax with a book while listening to the soothing sounds of crashing waves.
In a 2022 survey conducted by the Yoga Alliance, it was found that Australia is considered one of the top five destinations globally for yoga retreats.
According to Tourism Australia, wellness tourism accounted for an approximately 10% increase in international visitors in 2023, with yoga retreats being a significant factor.
A 2023 report from Statista showed that about 30% of Australians engage in meditation and yoga for their health and wellbeing, substantiating the growth of local yoga retreats.
Retreats Offering Unique City Adventures
While beach-front retreats offer serenity amidst nature, some yoga enthusiasts might seek an urban escape that fuses their love for yoga with city exploration. Australia's vibrant cities provide an excellent backdrop for those looking to indulge in unique cultural experiences alongside their yoga practice.
Sydney, with its iconic landmarks and bustling energy, offers several yoga retreats that combine city adventures with tranquillity. Imagine starting your day with sun salutations in a rooftop studio overlooking Sydney Harbour Bridge or experimenting with different yoga styles amidst the city's diverse yoga community.
These urban retreats often curate experiences beyond yoga sessions alone. You may have opportunities to explore local markets for farm-to-table food experiences or attend art exhibitions and cultural events that enrich your overall retreat experience. With the blend of urban amenities and spiritual practices, these city-centred retreats provide a balance between urban exploration and contemplative practices.
Whether you're drawn to the peacefulness of beach-front retreats or the vibrancy of city-centred adventures, it's essential to evaluate the services and amenities offered by each retreat to ensure a fulfilling experience.
Evaluating Retreat Options: Services & Amenities
When it comes to choosing the perfect yoga retreat in Australia, evaluating the services and amenities offered by different retreat centres is crucial. Understanding what each retreat has to offer will help you make an informed decision and ensure that your experience aligns with your expectations. So, what should you consider when evaluating retreat options?
First and foremost, consider the type of yoga classes and programmes offered at the retreat centre. Are they aligned with your interests and goals? Some retreats may focus on a specific yoga style or offer a variety of options to cater to different preferences. Whether you're a beginner or an experienced practitioner, it's important to find a retreat that offers classes suitable for your level.
Next, delve into the additional services and amenities provided by the retreat centre. Do they offer holistic treatments such as massages or spa facilities? Is there a swimming pool or beach access for relaxation? These extra features can enhance your overall experience and provide opportunities for self-care and rejuvenation during your retreat.
Another aspect to consider is the accommodation options available at the retreat centre. Are they comfortable and conducive to relaxation? Some retreats offer shared dormitories for a more budget-friendly option, while others provide private rooms or luxurious villas for a more indulgent experience. Consider what level of comfort you desire and ensure that the accommodations meet your preferences.
Additionally, evaluate the meals provided during your stay. Many yoga retreats in Australia offer nutritious vegetarian or vegan meals that support a healthy lifestyle. If you have dietary restrictions or specific preferences, it's essential to inquire about the menu and discuss any special requirements beforehand. Nourishing your body with nourishing food is an important aspect of the overall wellness experience.
Lastly, consider the location of the retreat centre and its surroundings. Australia offers a wide array of stunning natural landscapes, from pristine beaches to lush rainforests. Think about whether you prefer a coastal retreat or a serene countryside setting. Consider the proximity to nature and outdoor activities that align with your interests, such as hiking trails or surfing spots.
By carefully evaluating the services and amenities offered by different retreat centres, you can choose one that offers the perfect blend of yoga classes, additional features, comfortable accommodations, nourishing meals, and an ideal location to make your yoga retreat in Australia truly transformative.
Preparing for Your Yoga Retreat in Australia
Embarking on a yoga retreat in Australia requires some preparation to ensure a smooth and fulfilling experience. Whether you're a seasoned yogi or new to the practice, taking the time to prepare will help you make the most of your time away. Here are some essential steps to consider when preparing for your yoga retreat:
Research the Retreat: Familiarise yourself with the schedule, daily activities, and any specific requirements outlined by the retreat centre. This will give you an idea of what to expect during your stay and allow you to mentally prepare for the experience.

Pack Mindfully: Consider the climate and season of your chosen location and pack accordingly. Comfortable yoga attire is essential, along with layers for varying temperatures. Don't forget essentials like sunscreen, a reusable water bottle, a journal for self-reflection, and any necessary medications or personal items.

Prepare Physically: Prioritise your physical well-being before embarking on the retreat. Engage in regular exercise and incorporate stretching or yoga sessions into your routine to condition your body for the intensive practice ahead.

Set Intentions: Take some time to reflect on why you're attending the retreat and set intentions for what you hope to achieve during your time there. Whether it's deepening your practice, finding inner peace, or simply taking a break from daily life, having clear intentions will help guide your focus throughout the retreat.

Disconnect from Technology: Consider disconnecting from technology or limiting its use during your retreat. This will allow you to fully immerse yourself in the experience and be present in the moment without distractions.

Open Mind and Heart: Approach your retreat with an open mind and heart, ready to embrace new teachings, experiences, and connections. Be willing to step out of your comfort zone and embrace the transformative potential of this journey.
By following these steps and preparing both physically and mentally, you'll be well-equipped to embark on your yoga retreat in Australia and make the most of this incredible opportunity for self-discovery and growth.
Essential Retreat Items and Attire
When preparing for a yoga retreat, it's essential to pack the right items and attire to ensure a comfortable and enriching experience. Consider these aspects as you organise your retreat essentials.
First and foremost, a yoga mat is a must-have item. It provides a clean and dedicated space for your practice, ensuring stability during poses and cushioning for your joints. Look for a non-toxic and eco-friendly mat that suits your needs. Get more information on yoga mats from rest and digest.
Additionally, comfortable and breathable yoga clothing is crucial. Opt for stretchy materials that allow ease of movement while keeping you cool during intense sessions. Consider packing layers as temperatures can vary throughout the day.
Next, bring along a reusable water bottle to stay hydrated during your practices. Staying hydrated is essential for maintaining energy levels and overall well-being.
A travel journal can also be a valuable companion on your retreat journey. Use it to jot down reflections, insights, or any meaningful experiences during the retreat. Writing can serve as a form of self-reflection and provide you with an opportunity to document your transformational journey.
Furthermore, it's wise to include personal wellness products such as sunscreen, insect repellent, and toiletries. These items will help protect your skin from the harsh Australian sun and keep you comfortable throughout your stay.
Lastly, don't forget to pack any necessary medication or supplements if you have specific health requirements. It's always advisable to check with the retreat organisers beforehand to ensure you have everything you need.
While having the right items is important, remember that attending a yoga retreat is about cultivating inner peace and self-care. So, approach your packing with mindfulness, bringing only what you truly need and leaving behind unnecessary distractions.
Planning Travel and Timing for Optimum Experience
As you embark on your journey to one of the best yoga retreats in Australia, careful travel planning and timing can enhance your overall experience. Let's explore some key considerations to make this aspect of your retreat a smooth and enjoyable one.
Firstly, research the location of the retreat and plan your travel accordingly. Check if there are nearby airports or transportation options available. Some retreat centres may offer airport transfers as part of their package, so take note of this when making your arrangements.


| Retreat Location | Nearest Airport | Distance from Airport |
| --- | --- | --- |
| New South Wales | Sydney (Kingsford Smith) | Approximately 20-30 km |
| Byron Bay Hinterland | Gold Coast | Approximately 77 km |
| Hepburn Springs | Melbourne | Approximately 109 km |
| Western Australia | Perth | Varies depending on region |

Once you have determined the logistics, consider timing your retreat during the optimal seasons. In Australia, September to November and March to May generally offer pleasant weather for outdoor activities without the extreme heat or cold. Keep in mind that specific regions may have slight variations in seasonal patterns, so it's worth researching beforehand.
Additionally, it's important to consider any tourist attractions or landmarks in proximity to the retreat centre. If you have extra time before or after the retreat, these destinations can add richness to your experience. For example, if attending a retreat in New South Wales, you might want to explore iconic sites like the Sydney Opera House or Bondi Beach.
Lastly, give yourself ample time to settle into the retreat environment upon arrival. Arriving a day or two before the scheduled start date can allow you to acclimate to any time zone differences, adjust to the surroundings, and fully embrace the retreat atmosphere.
By thoroughly planning your travel and considering the optimal timing, you can set yourself up for an optimum yoga retreat experience in Australia.
Related Products