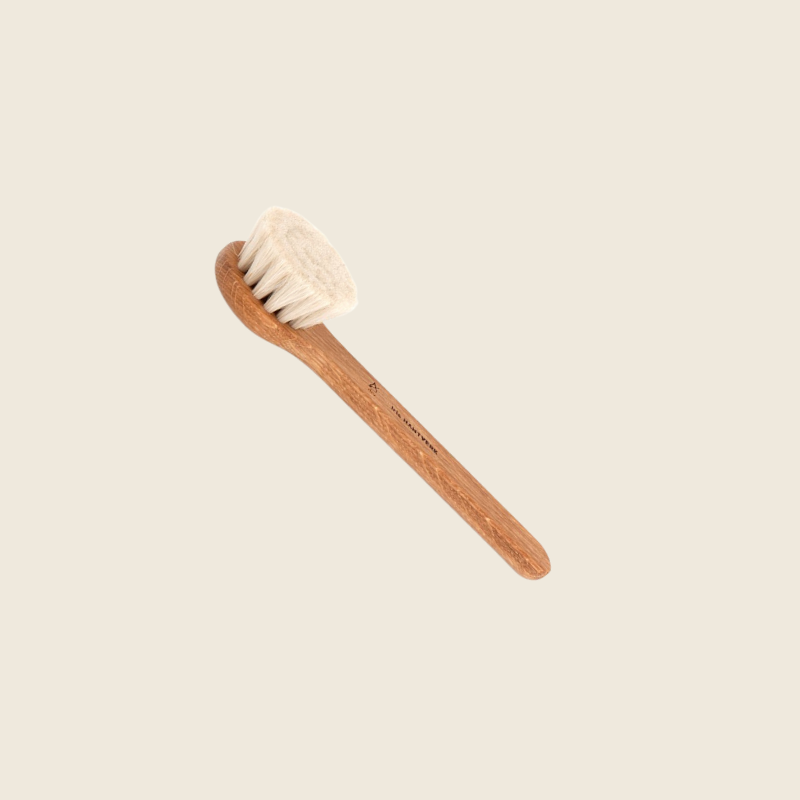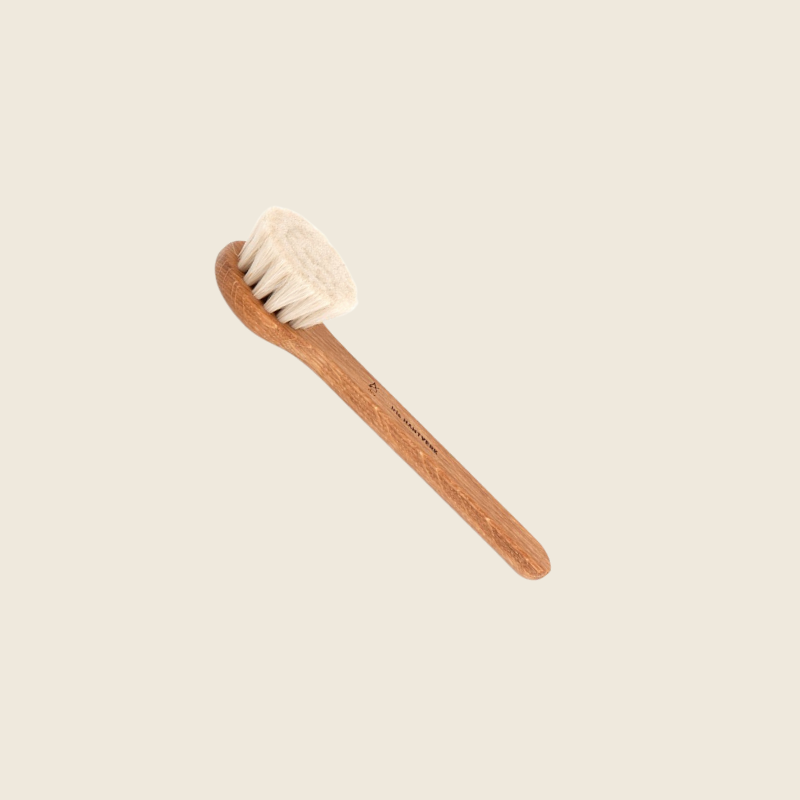 Iris Hantverk Dry Face Brush
Introducing this exquisite face brush by Iris Hantverk in oak and goat hair, a luxurious addition to your weekly routine that will leave you feeling pampered and revitalised. Crafted with the utmost care, this brush is designed for dry use on a clean, dry face. Its soft bristles effectively remove dead skin cells, revealing a radiant complexion that glows.

To achieve optimal results, simply massage your skin with gentle circular motions for just five minutes once or twice a week. The natural goat hair bristles work their magic without causing any harm or irritation. Feel the stress melt away as you indulge in this therapeutic ritual that not only enhances your skin's texture but also offers an unparalleled moment of self-care.

Embrace the sensation of velvety smoothness as this face brush stimulates blood circulation and encourages lymphatic drainage, leaving your skin refreshed and rejuvenated. With its elegant oak handle providing both functionality and style, this brush is an essential tool in achieving the healthy complexion you've always dreamed of. Treat yourself today to an enriching experience like no other!
With every purchase of an Iris Hantverk wire-drawn brush, you are not only acquiring an exceptional tool but also supporting the hard work and dedication of visually-impaired craftsmen who take immense pride in their artistry. These brushes embody tradition, innovation, and inclusivity all at once – providing you with both practicality and a meaningful connection to those behind its creation. Let your everyday tasks become moments of appreciation as you embrace this extraordinary blend of form and function in your hands.

Dimensions:
Length 17.5 cm
Width 4.5 cm
Height 3 cm
Care:
Once a week, sprinkle corn-starch on your brush, massage it in, and shake out the excess. This will get rid of any excess oil and dirt.
More Infomation To You
Things you need to know
We use industry standard SSL encryption to protect your details. Potentially sensitive information such as your name, address and card details are encoded so they can only be read on the secure server.
Safe Payments
Accept Credit Cart
Different Payment Method
Price Include VAT
Easy To Order
Express Delivery
Europe & USA within 2-4 days
Rest of the world within 3-7 days
Selected locations
Need more information