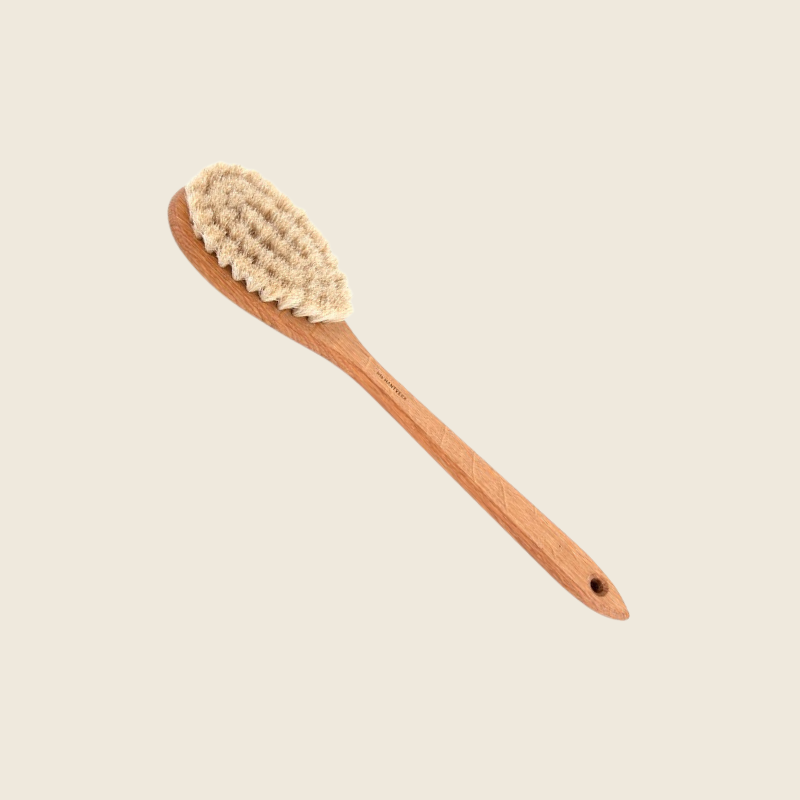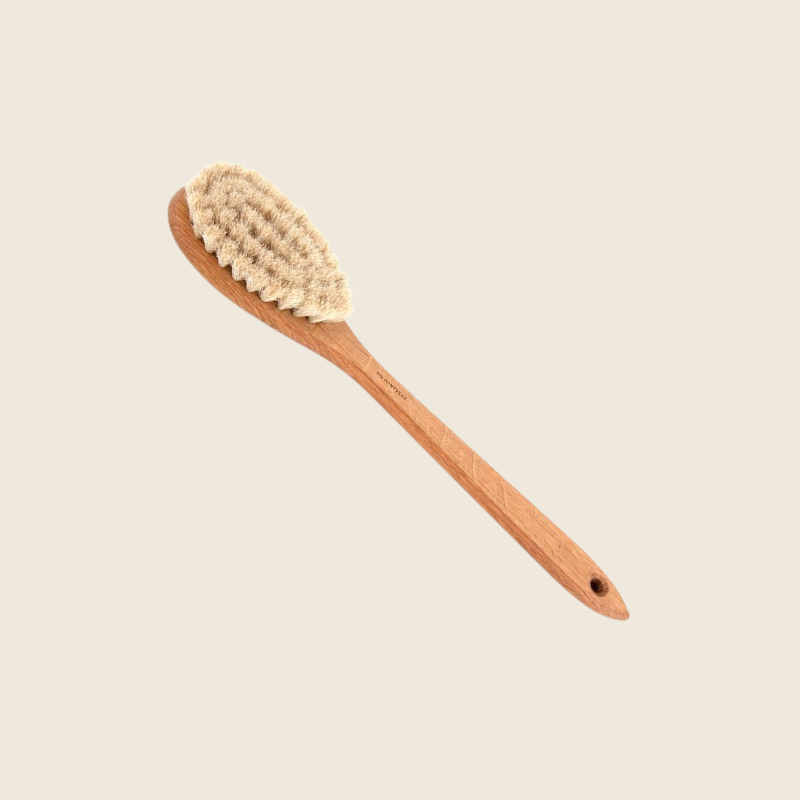 Iris Hantverk Body Brush
Introducing the luxurious bath body brush crafted from exquisite oak and horse hair, complete with a convenient handle. The horse hair bristles are carefully chosen for their exceptional qualities - gentle yet resilient, durable yet flexible. When paired with a high-quality soap, this dry body brush creates a velvety lather that indulges your senses and ensures a thorough cleanse. After use, simply hang or stand the body brush on its horsehair bristles to allow the water to effortlessly wick away from the delicate wood, preserving its beauty for years to come.

This brush can be used wet in the shower but our preferred use is as a dry body brush.
There are countless benefits to incorporating dry brushing into your self-care routine. Not only does it gently exfoliate and promote skin renewal, but it also keeps your pores clear and allows for easier release of dirt and toxins. Additionally, dry brushing stimulates the lymphatic system and improves blood circulation. Many people have found that it helps reduce stress and muscle tension while giving the skin a radiant softness.
We highly recommend delving into this subject to discover the method that suits you best. When engaging in dry brushing, ensure that you use a body brush that feels gentle against your skin. Initially, you may experience slight discomfort, but it quickly subsides as your skin adjusts.
If you choose to use the body brush in the shower, allow the brush to air dry with the bristles facing downward to prevent water from accumulating on the wooden part.


Dimensions:
Length 39 cm
Width 4 cm
Height 7 cm
Care:
In order to eliminate any excess oil and dirt, it is recommended to sprinkle corn-starch on your brush once a week, massage it in, and then shake off the remaining amount.
More Infomation To You
Things you need to know
We use industry standard SSL encryption to protect your details. Potentially sensitive information such as your name, address and card details are encoded so they can only be read on the secure server.
Safe Payments
Accept Credit Cart
Different Payment Method
Price Include VAT
Easy To Order
Express Delivery
Europe & USA within 2-4 days
Rest of the world within 3-7 days
Selected locations
Need more information